Discover the new look of our packaging!
Earlier this year, on the occasion of our 30th anniversary, we initiated the renewal of our brand identity. We first changed our logo and our visual identity. As part of this process of transformation, the presentation of our medicine boxes is also changing.
The change in packaging will be gradual and will take place over the next few months, gradually affecting each of the medicines currently on the market. The new boxes are specially designed to improve the visibility of information and make it easier to differentiate each of our medicines. Furthermore, at the request of health professionals and patients who use our treatments, the medicines contained in the new boxes will be lactose-free.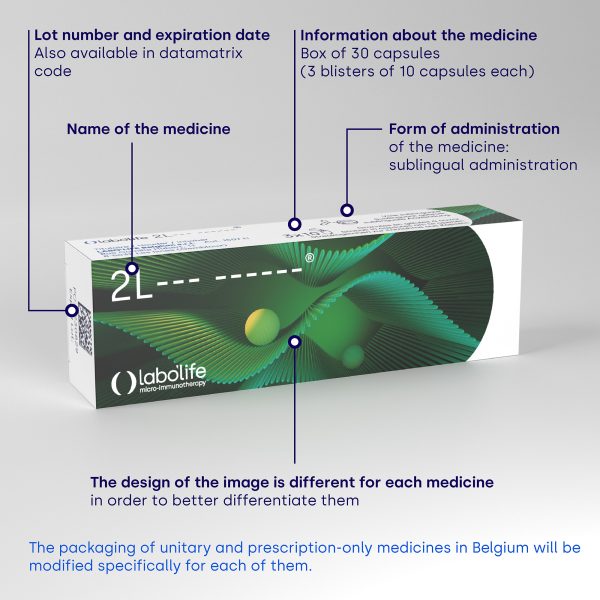 Features of the new boxes
At Labo'life, we are committed to people's health. In this context, we attach special importance to making it easier for patients to identify their treatment. From now on, each medicine will have a modern and unique design and a different background image on the box so that the patient can easily distinguish it, especially if they are taking multiple micro-immunotherapy medicines in combination. This packaging change will also help the pharmacist during dispensing, as they will be able to better differentiate each of the boxes.
It is our wish for health professionals and patients to be part of this process of transformation and be able to access the necessary information about our medicines. Hence, we inform you that during this transition period, two different box designs (the old and the new) may coexist on the market without affecting medication prescription habits. These changes do not affect the quality and safety of our treatments.
Should you have any questions or requests for additional information regarding these changes, please do not hesitate to contact us. Our team is available to provide you with all the necessary assistance.
Would you like to
get in touch with us?